Every organization engages in some form of public relations (PR). In essence, every form of communication emitted by an organization both internally and externally is perceived by various publics. In turn, these publics form attitudes and opinions about that organization, which affect their behaviors. These behaviors range from low morale on the part of the employees to product rejection on the part of consumers.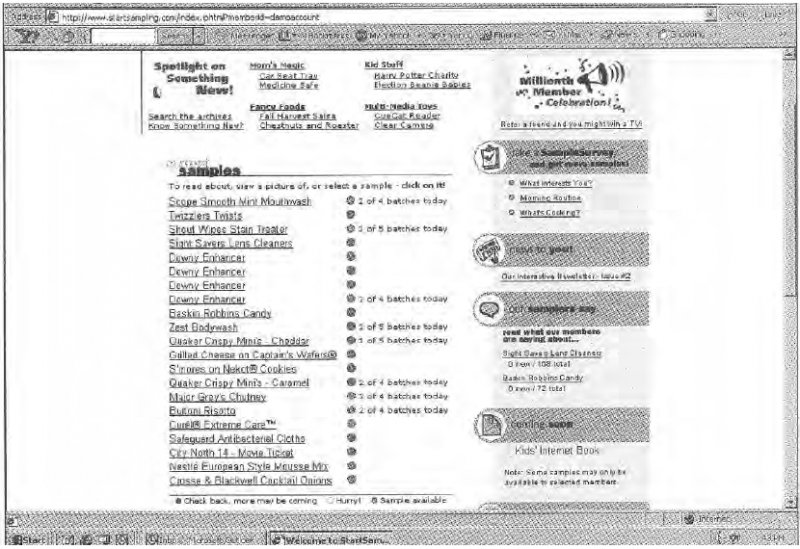 Figure 8.7
StartSampling offers its more than 1.5 million members the chance to try a wide variety of samples while helping marketers more effectively connect with their target audience.
Figure 8.8
Both StartSampling and FreeSamples.com have systems in place to prevent inventory depletion.
Nevertheless, public relations looms as one of the most misunderstood and mistrusted elements in marketing. Consequently, management may provide marketing in general with full support, ample scope, and time for planning, but often does not establish a role for public relations. Public relations may be brought in belatedly at advanced stages of marketing process as a peripheral area with no real purpose.
Obtaining a good working definition of public relations requires an acknowledgement of the concept's core elements. Four such elements emerge. First, the ultimate objective of PR is to retain as well as create goodwill. Second, the successful procedure to follow in public relations is to first do good and then take credit for it. Third, the publics addressed by the PR program must be described completely and precisely. In most instances, PR programs are aimed at multiple publics that have varying points of view and needs. Consequently, the publics served should be researched just as carefully as the target audiences for an advertising campaign. Finally, public relations is a planned activity. There is an intelligence behind it.
The definition that encompasses all these considerations, and was coined at the First Assembly of Public Relations Associations in 1987, follows:
Public Relations practice is the art of social science in analyzing trends, predicting their consequences, counseling organization leaders, and implementing planned programs of action, which serve both the organizations and the public interest.7