Provide concepts that can be understood by the user but not too far from the way data is stored in the computer. Three well-known data models of this type are relational data model, network data model and hierarchical data model.
The Relational model represents data as relations or tables.
The Network model represents data as record types and also represents a limited type of one to many relationship, called set type.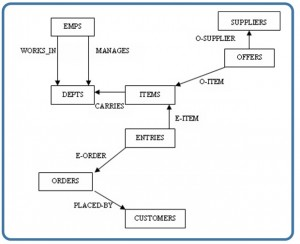 Figure 4.1
http://cnx.org/content/m28150/latest/
The Hierarchical model represents data as a hierarchical tree structures. Each hierarchy represents a number of related records. Here is the schema in hierarchical model notation.
Figure 4.2
http://cnx.org/content/m28150/latest/