The first step in training is an employee orientation. Employee orientation is the process used for welcoming a new employee into the organization. The importance of employee orientation is two-fold. First, the goal is for employees to gain an understanding of the company policies and learn how their specific job fits into the big picture. Employee orientation usually involves filling out employee paperwork such as I-9 and 401(k) program forms.
The goals of an orientation are as follows:
To reduce start-up costs.

 

If an orientation is done right, it can help get the employee up to speed on various policies and procedures, so the employee can start working right away. It can also be a way to ensure all hiring paperwork is filled out correctly, so the employee is paid on time.

To reduce anxiety.

 

Starting a new job can be stressful. One goal of an orientation is to reduce the stress and anxiety people feel when going into an unknown situation.

To reduce employee turnover.

 

Employee turnover tends to be higher when employees don't feel valued or are not given the tools to perform. An employee orientation can show that the organization values the employee and provides tools necessary for a successful entry.

To save time for the supervisor and coworkers.

 

A well-done orientation makes for a better prepared employee, which means less time having to teach the employee.

To set expectations and attitudes.

 

If employees know from the start what the expectations are, they tend to perform better. Likewise, if employees learn the values and attitudes of the organization from the beginning, there is a higher chance of a successful tenure at the company.
Some companies use employee orientation as a way to introduce employees not only to the company policies and procedures but also to the staff. For an example of an orientation schedule for the day, see Figure 8.1.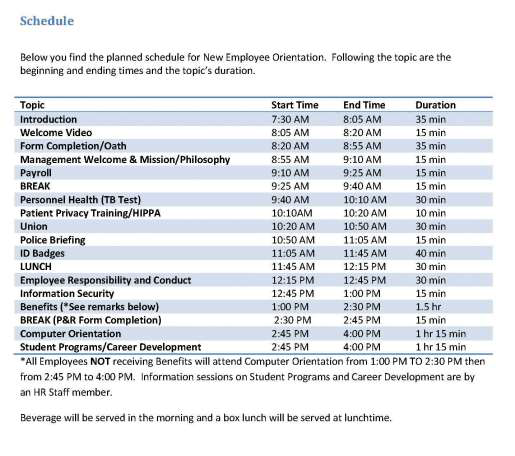 Some companies have very specific orientations, with a variety of people providing information to the new hires. This can create a welcoming environment, besides giving the employee the information they need. This is an example of one such orientation.
Source: Sample schedule courtesy of Louis Stokes Cleveland VA Medical Center,http://www.cleveland.va.gov/docs/NEOSchedule.pdf (accessed September 2, 2011).
Human Resource Recall
Have you ever participated in an orientation? What was it like? What components did it have?