According to the Bureau of Labor Statistics, 62 percent of companies in 2010 offered health-care benefits to employees.  1 The yearly cost for employee medical insurance averages $9,552, according to the 2009 Towers Perrin survey.  2 With such a significant cost to companies, it is up to HR managers to contain these costs, while not negatively affecting employee motivation. Medical insurance usually includes hospital expenses, surgical expenses, and routine health-care visits. Most insurance plans also allow for wellness visits and other alternative care (e.g., massage and acupuncture) within the plans. Many employers also offer vision and dental care benefits as part of their benefits packages. Disability insurance is also provided by some employers as well. We will discuss each of these in detail next.
One important law to keep in mind regarding medical insurance is the Health Insurance Portability and Accountability Act (HIPAA) of 1996. It provides federal protections for personal health information held by covered entities, such as employers. In other words, employers cannot divulge or share health care information they may have on an employee.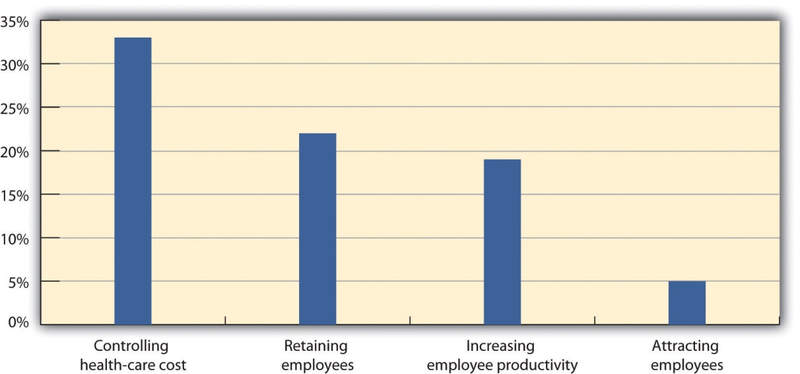 Figure 6.4
As you can see from MetLife's 9th annual study in 2010, cost containment is an important aspect to health-care plans. Source: MetLife, "9th Annual Study of Employee Benefits Trends," 2010,http://www.metlife.com/assets/institutional/services/insights-and-tools/ebts/Employee-Benefits-Trends-Study.pdf (accessed July 23, 2011). 
As the HR professional, it will likely be your responsibility to choose the health-care plan that best meets the needs of your employees. Some options include the following:
Fee-for-service plans. In this type of plan, people pay for medical expenses out of pocket, and then are reimbursed for the benefit level. For example, if your insurance plan covers doctor visits, you could see any doctor, pay the bill, and then submit payment to your insurer for reimbursement. Most companies will have a base plan, which covers more serious issues requiring hospitalization, while the major medical part of the plan would cover routine services, such as doctor's visits. As you can imagine, the disadvantage of this type of plan can be twofold: first, the initial expense for the employee, and second, the time it may take to receive reimbursement for employees. Remember that medical insurance can help retain and motivate employees and help you recruit new employees, so consideration of the disadvantages is important.
Health maintenance organizations (HMOs). The HMO will likely have greater coverage than the fee-for-service plan, but it limits the ability of employees to see the doctors they choose. There may be a limited number of physicians and specialists for the employee to see, and going outside the plan and seeing another doctor may result in an out-of-pocket expense for the employee. Most HMOs cover a wide range of medical issues and will usually require a copayment by the employee. Some may have minimum deductibles they must meet before the HMO will cover in full. For example, if you are part of an HMO with a deductible of $500 and copayments of $25, you would need to see the doctor for a value of $500 (paid out of pocket) before you can begin to just make the $25 copayment for visits. Some HMOs will not allow members to see a specialist, such as a dermatologist, without prior approval from the primary care physician.

Figure 6.5
Considerations When Choosing Medical Insurance 
Preferred provider organization (PPO). This type of medical plan is similar to HMOs but allows employees to see a physician outside the network. They will likely still have to pay a deductible as mentioned above, but PPOs do allow employees more freedom to see specialists, such as dermatologists.
When choosing the best type of plan for your organization, the following aspects should be considered:
The cost of the plan
The type of coverage
The quality of the care
Administration of the plan
First, the cost is usually a major consideration for the HR professional. Developing a budget for health-care costs, initiating bids from possible providers, and then negotiating those bids is a key factor in controlling this cost for employers.
Second, asking for employees' opinions about the type of coverage they would prefer is a way to ensure your plan meets the needs of your employees. Next, consider the quality of care your employees will receive and, finally, how simple will the plan be for your HR department to administer. For example, many HMO plans offer fully automated and online services for employees, making them easy to administer.
Disability insurance provides income to individuals (usually a portion of their salary) should they be injured or need long-term care resulting from an illness. Short-term disability insurance (STD) provides benefits to someone if they are unable to work for six months or less, while long-term disability insurance (LTD) covers the employee for a longer period of time. Normally, disability insurance provides income to the employee that is 60–80 percent of their normal salary.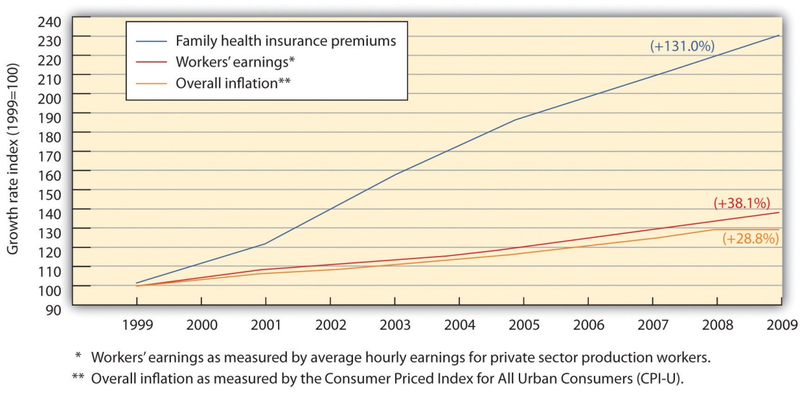 Figure 6.6
One of the biggest challenges in health-care benefits planning is to manage the growing cost of health insurance premiums for employees while still managing cost containment for the organization. Source: Economic Policy Institute, "The State of Working America: Health Premiums," http://stateofworkingamerica.org/charts/growth-rate-of-premiums-earnings-and-inflation/ (accessed July 23, 2011).