In addition to managing internal factors, the HR manager needs to consider the outside forces at play that may affect the organization. Outside forces, orexternal factors, are those things the company has no direct control over; however, they may be things that could positively or negatively impact human resources. External factors might include the following:
Globalization and offshoring
Changes to employment law
Health-care costs
Employee expectations
Diversity of the workforce
Changing demographics of the workforce
A more highly educated workforce
Layoffs and downsizing
Technology used, such as HR databases
Increased use of social networking to distribute information to employees
For example, the recent trend in flexible work schedules (allowing employees to set their own schedules) and telecommuting (allowing employees to work from home or a remote location for a specified period of time, such as one day per week) are external factors that have affected HR. HRM has to be aware of these outside issues, so they can develop policies that meet not only the needs of the company but also the needs of the individuals. Another example is the Patient Protection and Affordable Care Act, signed into law in 2010. Compliance with this bill has huge implications for HR. For example, a company with more than fifty employees must provide health-care coverage or pay a penalty. Currently, it is estimated that 60 percent of employers offer health-care insurance to their employees. 1 Because health-care insurance will be mandatory, cost concerns as well as using health benefits as a recruitment strategy are big external challenges. Any manager operating without considering outside forces will likely alienate employees, resulting in unmotivated, unhappy workers. Not understanding the external factors can also mean breaking the law, which has a concerning set of implications as well.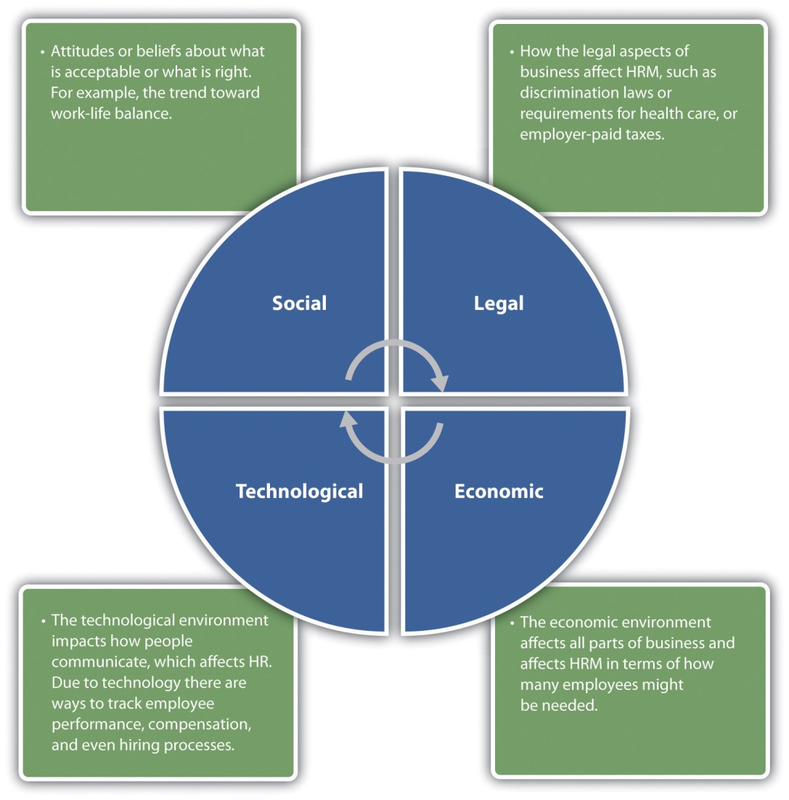 Figure 1.1
An understanding of key external factors is important to the successful HR professional. This allows him or her to be able to make strategic decisions based on changes in the external environment. To develop this undersnding, reading various publications is necessary.
One way managers can be aware of the outside forces is to attend conferences and read various articles on the web. For example, the website of the Society for Human Resource Management, SHRM Online, 2 not only has job postings in the field but discusses many contemporary human resource issues that may help the manager make better decisions when it comes to people management. In  "Today's HRM Challenges", we go into more depth about some recent external issues that are affecting human resource management roles. In  "The Role of HRM", we discuss some of the skills needed to be successful in HRM.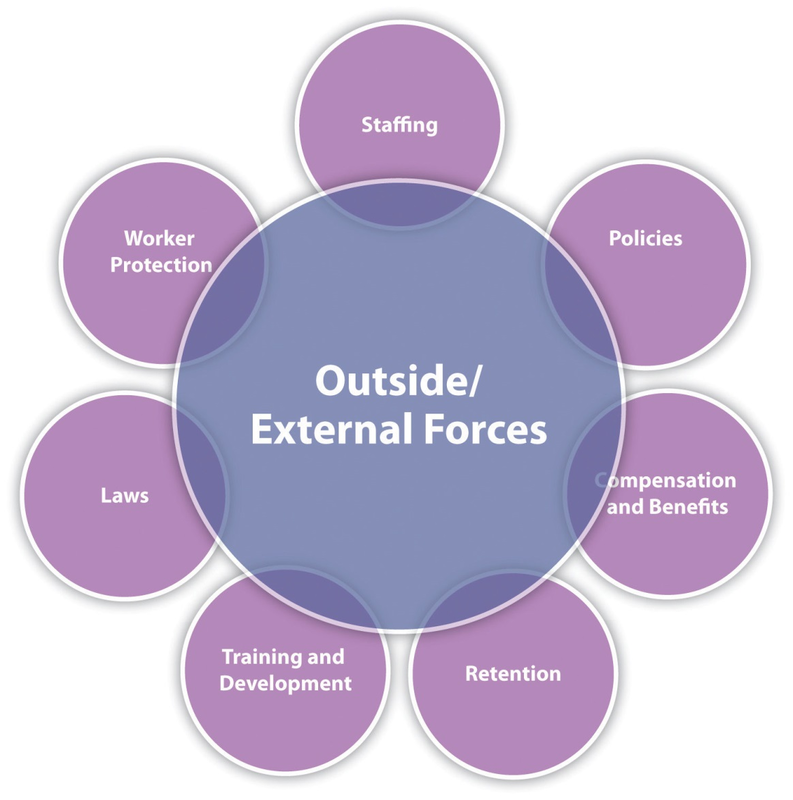 Figure 1.2
Most professionals agree that there are seven main tasks HRM professionals perform. All these need to be considered in relation to external and outside forces. 
Key Takeaways
Capital includes all resources a company uses to generate revenue. Human resources or the people working in the organization are the most important resource.
Human resource management is the process of employing people, training them, compensating them, developing policies relating to the workplace, and developing strategies to retain employees.
There are seven main responsibilities of HRM managers: staffing, setting policies, compensation and benefits, retention, training, employment laws, and worker protection. In this book, each of these major areas will be included in a chapter or two.
In addition to being concerned with the seven internal aspects, HRM managers must keep up to date with changes in the external environment that may impact their employees. The trends toward flexible schedules and telecommuting are examples of external aspects.
To effectively understand how the external forces might affect human resources, it is important for the HR manager to read the HR literature, attend conferences, and utilize other ways to stay up to date with new laws, trends, and policies.
Exercises
State arguments for and against the following statement: there are other things more valuable in an organization besides the people who work there.
Of the seven tasks an HR manager does, which do you think is the most challenging? Why?