The EEOC defines a disability as a physical or mental impairment that substantially limits one or more of the major life activities of individuals and the ability to provide evidence of such an impairment. 1 Because of this definition, people who havemultiple chemical sensitivity (MCS) or environmental illness (EI) are eligible for reasonable accommodations in the workplace. MCS or EI is the inability to tolerate an environmental chemical or class of foreign chemicals. Symptoms can include headache, dizziness, inability to breathe, muscle pain, and many more depending on the person. As a result, implementing policies surrounding MCS may be not only a legal requirement but a best practice to keep employees safe and healthy in the workplace. Some examples of such policies might include the following: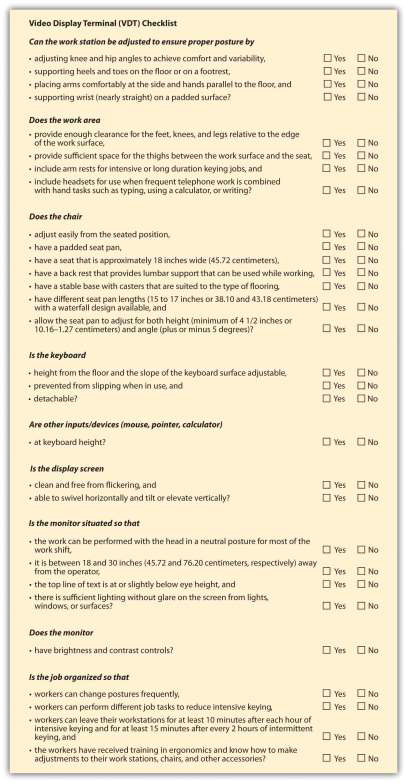 Figure 13.5
VDT Checklist to Reduce Workplace Injuries 
Institute a fragrance-free workplace policy (e.g., no scented lotions, hair products, or perfumes).
Limit use of restroom air fresheners, cleaning agents, and candles.
Ensure the ventilation system is in good working order.
Provide a workspace with windows where possible.
Consider providing an alternate workspace.
Be cautious of remodels, renovations, and other projects that may cause excessive dust and odors.
If an organization is going to implement a fragrance-free work policy, this is normally addressed under the dress code area of the organization's employee manual. However, many employers are reluctant to require employees to refrain from wearing or using scented products. In this case, rather than creating a policy, it might be worthwhile to simply request a fragrance-free zone from employees through e-mail and other means of communication. An example of such a policy is used by Kaiser Permanente:
We recognize that exposure to strong scents and fragrances in the environment can cause discomfort, as well as directly impact the health of some individuals. Since we hope to support a healthful environment for employees, physicians, and visitors, it is the intent of Quality and Operations Support to strive for a fragrance-controlled workplace. Therefore, for the comfort and health of all, use of scents and fragrant products by QOS employees, other than minimally scented personal care products, is strongly discouraged. 2