The Immigration Reform and Control Act (IRCA) was adopted by Congress in 1986. 1 This law requires employers to attest to their employees' immigration status. It also makes it illegal to hire or recruit illegal immigrants. The purpose of this law is to preserve jobs for those who have legal documentation to work in the United States. The implications for human resources lie in the recruitment process, because before entering employees into the selection process (interviewing, for example), it is important to know they are eligible to work in the United States. This is why many application forms ask, "Are you legally able to work in the United States?" Dealing with the IRCA is a balancing act, however, because organizations cannot discriminate against legal aliens seeking work in the United States.
The IRCA relates not only to workers you hire but also to subcontractors. In a subcontractor situation (e.g., your organization hires an outside firm to clean the building after hours), your organization can still be held liable if it is determined your organization exercises control over how and when the subcontractors perform their jobs. In 2005, undocumented janitorial workers sued Walmart, arguing that the contracting company they worked for didn't pay them a minimum wage. 2 Because the retailer controlled many of the details of their work, Walmart was considered to be a coemployer, and as a result, Walmart was held responsible not only for back wages but for the fact their subcontractor had hired undocumented workers.
HR professionals must verify both the identity and employment eligibility of all employees, even if they are temporary employees. The INS I-9 form (Employment Eligibility Verification form) is the reporting form that determines the identity and legal work status of a worker.
If an audit is performed on your company, you would be required to show I-9 forms for all your workers. If an employer hires temporary workers, it is important to manage data on when work visas are to expire, to ensure compliance. Organizations that hire illegal workers can be penalized $100 to $1,000 per hire. There is a software solution for management of this process, such as HR Data Manager. Once all data about workers are inputted, the manager is sent reminders if work authorization visas are about to expire. Employers are required to have the employee fill out the I-9 form on their first day of work, and the second section must be filled out within three days after the first day of employment. The documentation must be kept on file three years after the date of hire or for one year after termination. Some states, though, require the I-9 form be kept on file for as long as the person is employed with the organization.
In 2010, new rules about the electronic storage of forms were developed. The US Department of Homeland Security said that employees can have these forms electronically signed and stored.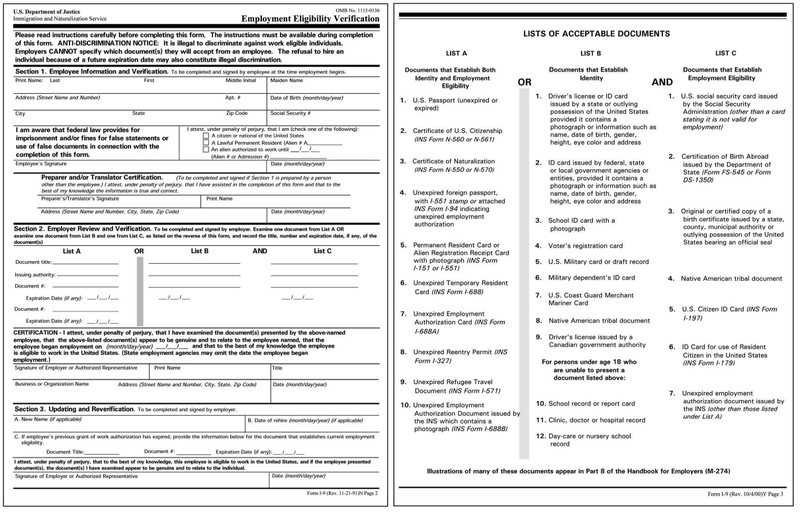 Figure 4.4
The I-9 form must be completed by management within three days of hire and be kept for at least three years, but in some states, it must be kept on file for the duration of employment