Before we discuss specific details on retention planning, it is important to address the reasons why people choose to leave an organization to begin with. One mistake HR professionals and managers make is to assume people leave solely on the basis of their unhappiness with their compensation packages. Many factors can cause demotivated employees, which we discuss in "Theories on Job Dissatisfaction".
Once we find out what can cause voluntary turnover, we can develop retention strategies to reduce turnover. Some of the common reasons employees leave organizations can include the following:
A poor match between the job and the skills of the employee. This issue is directly related to the recruitment process. When a poor match occurs, it can cause frustration for the employee and for the manager. Ensuring the recruitment phase is viable and sound is a first step to making sure the right match between job and skills occurs.
Lack of growth. Some employees feel "stuck" in their job and don't see a way to have upward mobility in the organization. Implementing a training plan and developing a clearly defined path to job growth is a way to combat this reason for leaving.
Internal pay equity. Some employees, while they may not feel dissatisfied with their own pay initially, may feel dissatisfaction when comparing their pay with others. Remember the pay equity theory discussed in "Compensation and Benefits"? This theory relates to one reason why people leave.
Management. Many employees cite management as their reason for leaving. This can be attributed to overmanaging (micromanaging) people, managers not being fair or playing favorites, lack of or poor communication by managers, and unrealistic expectations of managers.
Workload. Some employees feel their workloads are too heavy, resulting in employees being spread thin and lacking satisfaction from their jobs, and possibly, lack of work-life balance as a result. We know that some people will move or perhaps their family situation changes. This type of turnover is normal and expected. Figure 7.2 "Common Reasons for Employee Turnover" shows other examples of why people leave organizations.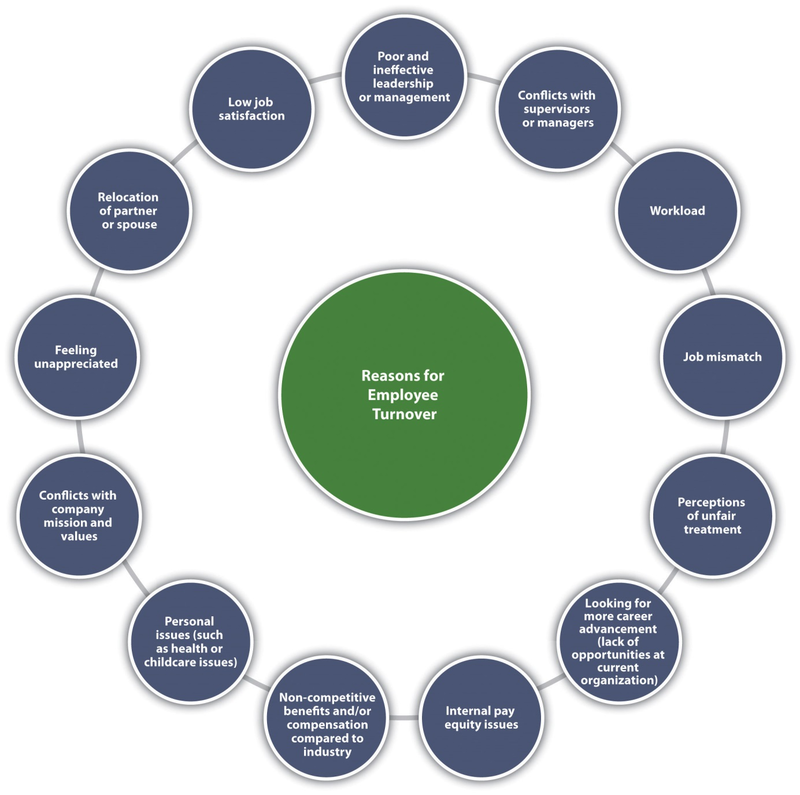 Figure 7.2
Common Reasons for Employee Turnover  
As HR professionals and managers, we want to be sure we have plans in place to keep our best people. One such plan is the retention plan, which we will discuss in "Retention Plans".
Human Resource Recall
Do you feel your current or past organization did a good job of reducing turnover? Why or why not?
Key Takeaways
Retaining employees is an important component to a healthy organization. Losing an employee is called turnover. Turnover can be very expensive to an organization, which is why it is important to develop retention plans to manage turnover.
Voluntary turnover is turnover that is initiated by the employee, whileinvoluntary turnover is initiated by the organization for various reasons such as nonperformance.
Direct turnover costs and indirect turnover costs can include the costs associated with employee replacement, declining employee morale, or lost customers.
Some of the reasons why employees leave can include a poor match between job and skills, no growth potential, pay inequity among employees, the fairness and communication style of management, and heavy workloads.
Exercises
Perform an Internet search of average employee turnover cost and report findings from at least three different industries or companies.