The CAPM assumes that the risk-return profile of a portfolio can be optimized—an optimal portfolio displays the lowest possible level of risk for its level of return. Additionally, since each additional asset introduced into a portfolio further diversifies the portfolio, the optimal portfolio must comprise every asset, (assuming no trading costs) with each asset value-weighted to achieve the above (assuming that any asset is infinitely divisible). All such optimal portfolios, i.e., one for each level of return, comprise the efficient frontier.
Because the unsystematic risk is diversifiable, the total risk of a portfolio can be viewed as beta.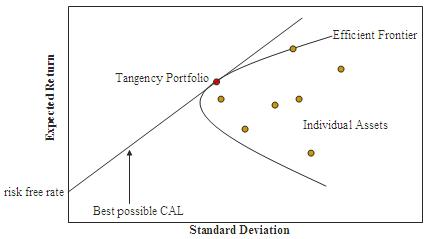 The (Markowitz) efficient frontier. CAL stands for the capital allocation line.