As we shall see throughout the book, the magic sauce of innovation involves learning and experimentation. Weaving together the little ahas through a continuous learning process is the basis of interesting ideas and innovation. As illustrated in the following figure, learning-about and learning-by-doing are the drivers of innovation and new product development. This process involves the continuous mixing together of collaboration, searching for ideas, and then making things. As noted in Facilitating Creativity and Innovation, the little ahas eventually lead to the big aha and the big aha is not necessarily the solution to the original problem. The big aha is simply illuminating, insightful, and innovative. Peter Sims suggests the placing of little bets to explore possibilities and engage in innovation. 1 Little bets are essentially low-risk investments with a chance of failure that incorporate the development and testing of ideas. Placing little bets leads to little ahas and eventually to the big aha. Placing little bets are actually investments in what are referred to as real options, and that topic will be covered in depth in Re-priming the Business Using Real Options Concepts.
Learning About and Learning By Doing Drive Innovation and New Product Development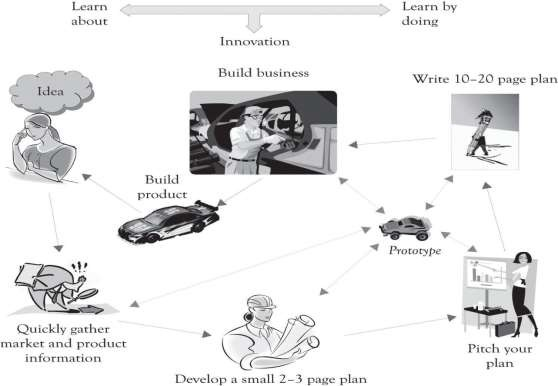 There are of course other important issues in the execution of a successful business, including the development of an efficient supply chain and the development of a strong brand. The supply chain and developing a brand are discussed throughout the book, but they deserve more attention and detail and the reader is encouraged to learn-about these topics by reading and attending professional development programs. As noted in Strategic Planning and Ten–Ten Planning, organizations need above-average performance in terms of product and service innovation, the supply chain, and branding in order to survive.