The genesis of the SWOT approach to strategic planning is usually attributed to Albert S. Humphrey during his tenure with the Stanford Research Institute. 1 Even though the SWOT technique can trace its roots to the 1960s, it is still an important and useful tool that is constantly evolving and improving to deal with the ever-increasing complexity of contemporary markets.
The objective of a SWOT analysis is to facilitate the development of a strategy in starting a new venture or large-scale project, completing a large-scale project and diagnosing deficiencies in an existing organization by taking its temperature in a particular environmental context. A SWOT diagram consists of four quadrants (see Figure 8.5). The upper two quadrants relate to the internal strengths and weaknesses of the organization. The bottom two quadrants relate to the external organizational environment in terms of the opportunities and threats faced by the organization in the marketplace.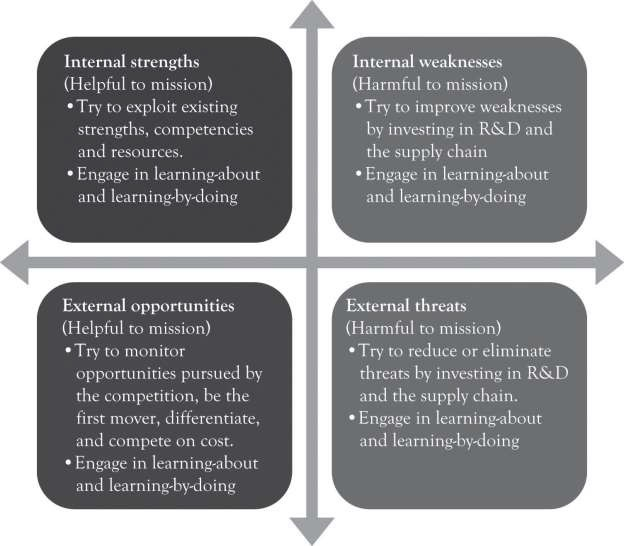 One of the benefits of SWOT is that it can be used to analyze the organization as well as the organizational environment in order to identify areas of competitiveness and areas that need attention. It is a very useful tool for looking inside and looking outside to identify the state of the organization and the competitive environment. In an ideal situation, it draws on organizational constituencies and scans the external environment for opportunities and threats. Several examples of how SWOT can be used to analyze the strategic context are presented below.