The demand dashboard can also be used to determine the optimum solution when there are three jewelry boxes. The optimum solution is calculated using a mathematical programming algorithm that is usually referred to as a solver add-on in spreadsheet programs (see Figure 3.10). The solver essentially identifies the price for the Athena, the Stryker, and the Natural that would maximize profit with all the other variables such as the variable costs remaining the same.
As you can see from Figure 3.10, the optimal Athena price would be $76.25 and about 19 units would be sold. The optimal price for the Stryker would be $57.50 and about 94 units would be sold. The Natural would be priced at $33.75 and would sell 119 units. The net profit for all three versions would be $5,672. This is in contrast to the non-optimized solution of $4,500. Joan just picked prices for each version using her intuition and insight into what consumers would be willing to pay.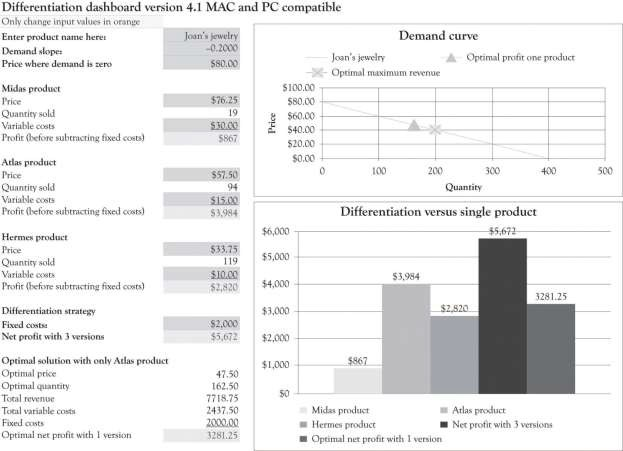 Figure 3.10
Optimal Profit with Three Versions of Jewelry Boxes 
You should note that the optimal solution for only having the Atlas product is $3,281. This is little different than the $3,216 solution obtained using the algebraic solution detailed in the last section because we rounded the price and quantity in the algebraic solution.
The optimal solution provides insight into the demand curve and the product mix, but it is not a magic potion for setting prices and developing versions. There are a number of factors that go into identifying the price and the characteristics for each version. There might be significant setup costs for constructing the Athena or, perhaps, it would be difficult to find artistically talented employees to work on the fake pearl inlays for just a couple of hours. Perhaps Joan does not want to focus on the Natural because she wants to eventually focus on upscale jewelry boxes and she is concerned that her product would not be considered a high-end offering because of the proliferation of inexpensive jewelry boxes. And, of course, it is very difficult to actually know if the demand curve is valid for all levels of prices.