There comes a time when a decision has to be made when to launch the business or project. Problems inevitably arise as the launch date approaches and the question whether to continue with the launch date or delay it looms its ugly head. Delaying a launch after the date has been announced can adversely impact the employees of a start-up and create a negative view of the business by consumers and the media. We have developed a very simple set of questions that can be used to ascertain if the launch should go as scheduled. 1 The questions are outlined in Figure 13.7.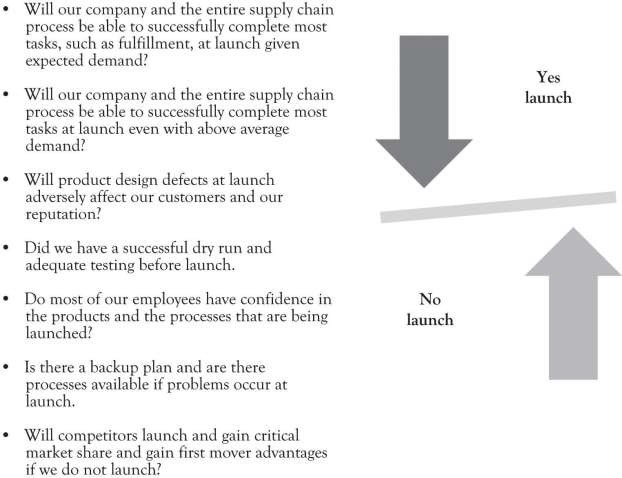 Figure 13.7
To Launch or Not to Launch: These Are the Questions 
There is no simple answer regarding the decision to launch, even in the face of numerous deficiencies and potential problems. Sometimes it only takes a negative answer to only one question and the launch should be delayed. If a new online banking service is being launched, then any hint of problems should preclude launching. In some instances, there can be numerous problems with a product and downloading software patches can alleviate them. Online gaming developers are notorious for launching software with numerous bugs. It is a very contextual decision and dependent on the product features and what the product will be used for.