At one time, Dell was more-or-less a pure pull company, just like Amazon.com. Much of their entire production system was driven by actual orders from customers. Part of their production process has also pushed products to consumers, but they are on balance a pull process company. They have been drawn toward the dark side and push production because of the demands of the marketplace. In a push production process, orders are forecasted and some products are scheduled for production based on forecasts and retailer demand rather than end-consumer. This change in attitude toward selling directly also coincides with Dell's move to sell off their manufacturing units. They are attempting to alleviate the risk inherent in manufacturing products before customers order them. The risk is of course excess inventory and Dell disdains inventory. After Dell sells their manufacturing facilities, their systems suppliers will then absorb some of the risk of carrying excess and outdated inventory.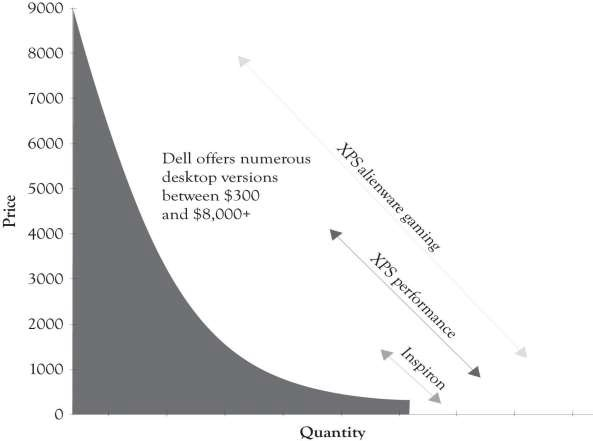 Figure 5.5
Differentiation at Dell 
Dell, because of its direct selling and the ability to install numerous features, is a prime example of dynamic differentiation. They offer literally thousands of different product configurations or versions. As illustrated in Figure 5.5, Dell has feature points over a broad range of prices (these statistics approximate Dell's line in 2011).