Value is at the center of everything marketing does (Figure 1.1 Marketing is composed of four activities centered on customer value: creating, communicating, delivering, and exchanging value. ). What does value mean?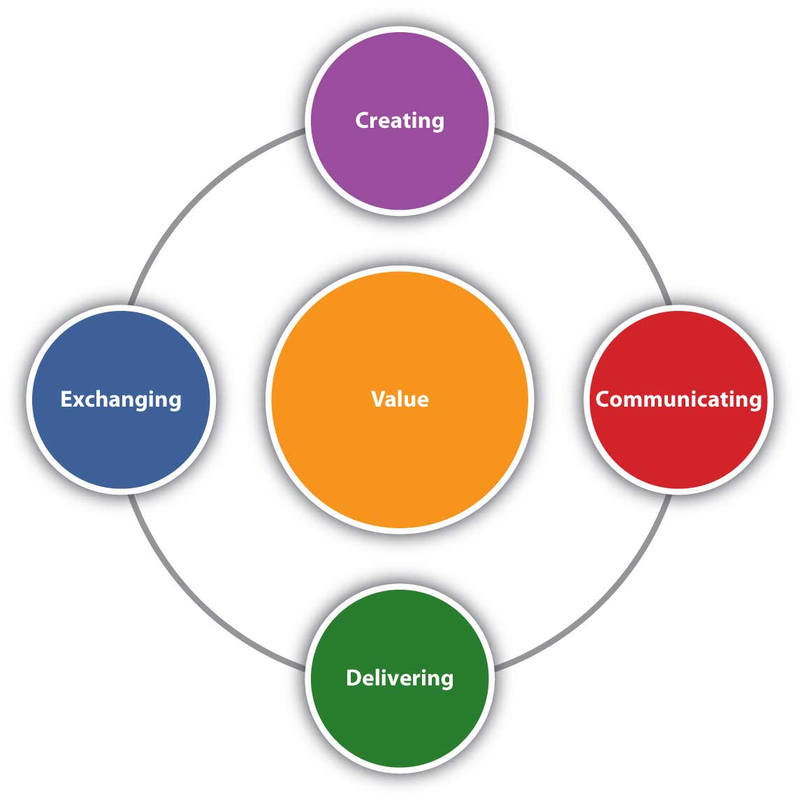 Figure 1.1
Marketing is composed of four activities centered on customer value: creating, communicating, delivering, and exchanging value. 
When we use the term value, we mean the benefits buyers receive that meet their needs. In other words, value is what the customer gets by purchasing and consuming a company's offering. So, although the offering is created by the company, the value is determined by the customer.
Furthermore, our goal as marketers is to create a profitable exchange for consumers. By profitable, we mean that the consumer's personal value equation is positive.
The personal value equation is



value = benefits received – [price + hassle]



Hassle is the time and effort the consumer puts into the shopping process. The equation is a personal one because how each consumer judges the benefits of a product will vary, as will the time and effort he or she puts into shopping. Value, then, varies for each consumer.
One way to think of value is to think of a meal in a restaurant. If you and three friends go to a restaurant and order the same dish, each of you will like it more or less depending on your own personal tastes. Yet the dish was exactly the same, priced the same, and served exactly the same way. Because your tastes varied, the benefits you received varied. Therefore the value varied for each of you. That's why we call it a personal value equation.
Value varies from customer to customer based on each customer's needs. The marketing concept, a philosophy underlying all that marketers do, requires that marketers seek to satisfy customer wants and needs. Firms operating with that philosophy are said to be market oriented. At the same time, market-oriented firms recognize that exchange must be profitable for the company to be successful. A marketing orientation is not an excuse to fail to make profit.
Firms don't always embrace the marketing concept and a market orientation. Beginning with the Industrial Revolution in the late 1800s, companies were production oriented. They believed that the best way to compete was through product innovation and by reducing production costs. In other words, companies thought that good products would sell themselves. Perhaps the best example of such a product was Henry Ford's Model A automobile, the first product of his production line innovation. Ford's production line made the automobile cheap and affordable for just about everyone. The production eralasted until the 1920s, when production-capacity growth began to outpace demand growth and new strategies were called for.
From the 1920s until after World War II, companies tended to be selling oriented, meaning they believed it was necessary to push their products by heavily emphasizing advertising and selling. Consumers during the Great Depression and World War II did not have as much money, so the competition for their available dollars was stiff. The result was this push approach during the selling era.
In the post–World War II environment, demand for goods increased as the economy soared. Some products, limited in supply during World War II, were now plentiful to the point of surplus. Consumers had many choices available to them, so companies had to find new ways to compete. During this time, the marketing concept was developed, and from about 1950 to 1990, businesses operated in the marketing era.
So what era would you say we're in now? Some call it the value era: a time when companies emphasize creating value for customers. Is that really different from the marketing era, in which the emphasis was on fulfilling the marketing concept? Maybe not. Others call today's business environment the one-to-one era, meaning that the way to compete is to build relationships with customers one at a time and seek to serve each customer's needs individually. Yet is that substantially different from the marketing concept?
Still others argue that this is the time of service-dominant logic and that we are in the service-dominant logic era. Service-dominant logic is an approach to business that recognizes that consumers want value no matter how it is delivered, whether it's via a product, a service, or a combination of the two. Although there is merit in this belief, there is also merit to the value approach and the one-to-one approach. As you will see throughout this book, all three are intertwined. Perhaps, then, the name for this era has yet to be devised.
Whatever era we're in now, most historians would agree that defining and labeling it is difficult. Value and one-to-one are both natural extensions of the marketing concept, so we may still be in the marketing era. To make matters more confusing, not all companies adopt the philosophy of the era. For example, in the 1800s Singer and National Cash Register adopted strategies rooted in sales, so they operated in the selling era forty years before it existed. Some companies are still in the selling era. Many consider automobile manufacturers to be in the trouble they are in because they work too hard to sell or push product and not hard enough on delivering value.