A company's marketing activities include creating advertising and promotional campaigns, participating in trade shows, and preparing collateral. Collateral is printed or digital material salespeople use to support their message. It can consist of brochures, position papers, case studies, clinical studies, market studies, and other documents.
Salespeople use collateral to support their claims. Although a pharmaceutical rep selling a drug might claim it works faster than competing medications, a clinical study would carry more weight. If such a study existed, the drug maker's marketing department would prepare a brochure to give to doctors that highlight those findings.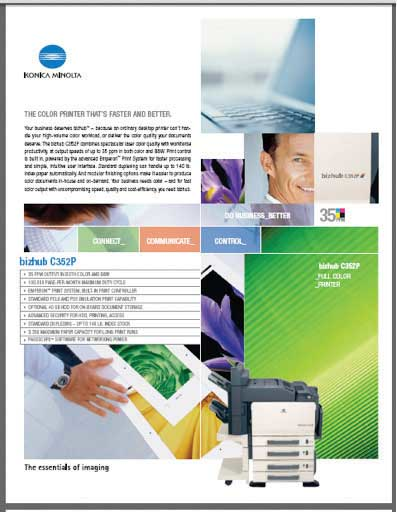 Figure 13.12
This "sell sheet" for a color photocopier is an example of collateral used by the salespeople who work for Konical-Minolta Business Services (KMBS). Collateral is printed or digital material salespeople use to support their messages.  
Traditionally, firms have used their marketing groups to create awareness for their offerings and brand names through advertising. Brand awareness opens doors for salespeople. Few businesspeople sit in their offices hoping a salesperson will drop by. They are too busy to entertain every salesperson who walks in! But when a salesperson does come by from a well-known company, the businessperson is far more likely to be courteous and listen, however briefly, to see if there is some value in continuing the conversation.
Marketing professionals also support salespeople by providing them with lead management. Lead management is the process of identifying and qualifying leads in order to grow new business. Closed-loop lead management systems are information systems that are able to track leads all the way from the point at which the marketer identifies them to when they are closed. Figure 13.13 How a Closed-Loop Management System Works  illustrates the process and shows how marketing groups use the information to evaluate which of their activities are earning their companies the biggest bang for their buck.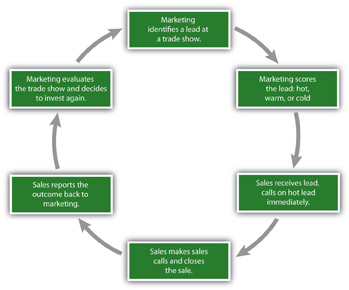 Figure 13.13
How a Closed-Loop Management System Works 
A closed-loop lead management system can result in better investment decisions for marketing managers because they can learn what marketing actions shorten sales cycles and create more sales. 
Unfortunately, many companies lack such a system. So in many cases, marketing personnel identify leads, turn them over to sales representatives, and that's the last they hear of them. Was the lead a good one, and did it ultimately lead to a purchase? Was the trade show that produced the lead worth the money spent attending it? These companies don't know. Closing the loop (meaning closing the feedback loop to marketing) gives marketing personnel insight into what works and what doesn't.
Ram Ramamurthy is a marketing professional for Sri-IIST, a company that has a closed-loop lead management system. Ramamurthy met Frank Zapata, a potential customer, at an industry trade show held annually in Las Vegas and gave Zapata a demonstration of his company's new offering, a software service called DG Vault. So when Curtis Hamm, the Sri-IIST salesperson who handles Zapata's account, followed up on the lead, he knew that Zapata had already seen the product. Instead of two or three sales calls to build interest in DG Vault, Hamm only needed to ask Zapata to gather all the appropriate personnel together to review the service, and then present its financial benefits to Zapata's CFO. Because of the meeting at the trade show, at least two stages in the sales cycle were eliminated. After Hamm closed the sale, he also closed the loop, providing feedback to Ramamurthy about any lingering questions Zapata may have had. Using that feedback, Ramamurthy can strengthen the next trade show presentation.