Loyalty programs are marketing efforts that reward a person or organization for frequent purchases and the consumption of offerings. For example, Lone Star Park's Star Player Rewards program awards members points for each dollar they spend at the track. The more points they earn, the better the prize is for which they can redeem their points.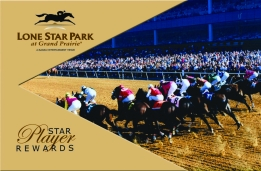 Figure 14.4
 Lone Star Park is a horseracing track in Grand Prairie, Texas. The park rewards frequent attendees through its Star Player Rewards program, which tracks members' purchases and bets. Members can also compete in special contests and participate in special events, such as being able to meet famous jockeys.  
The data a firm collects from a loyalty program can be very useful in terms of designing and improving the company's offerings. When members initially sign up for a loyalty program, they provide a great deal of demographic information to the organization. Their behavior can then be tracked as well. For example, Lone Star Park can determine who sits in what section of the track by what tickets members purchase, as well as where they purchase their refreshments or place their bets. The track can also determine members' preferences for food and drink products or services such as betting clerks and betting machines. When the track has nonracing events, such as a concert, the events can be promoted to Star Players. Depending on how the members respond, additional offers can be made, or not made, to them.
Lone Star Park might also team up to create an offering with American Airlines. For example, the track and the airline could compare customer lists and determine which Star Players members are also members of American's AAdvantage frequent-flier program. These individuals could then be offered discounts on trips to Louisville, Kentucky, where the Kentucky Derby is held. Such an offer is called cross-promotion marketing. A cross-promotion can be used to introduce new marketing members to a community; in this case, Lone Star Park is introducing American to the horseracing community. The cross-promotion creates credibility for the new member, just as you are more likely to accept a recommendation from a friend.