Account managers are responsible for ongoing business with a customer who uses a product. A new customer may be found by a prospector and then turned over to an account manager, or new accounts may be so rare that the account manager is directly responsible for identifying and closing them. For example, if you sold beds to hospitals, new hospital organizations are rare. A new hospital may be built, but chances are good that it is replacing an existing hospital or is part of an existing hospital chain, so the account would already have coverage.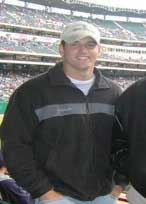 Figure 13.3
 Taylor Bergstrom, who began his career as a sales representative for the Texas Rangers baseball team, is now an account manager for the club. Some of the deals he closes are worth hundreds of thousands of dollars. 
Taylor Bergstrom, a Baylor University graduate, began his career as a sales representative prospecting for the Texas Rangers baseball team. Bergstrom spent a lot of time calling people who had purchased single game tickets in an effort to sell them fifteen-game packages or other special-ticket packages. Today, Bergstrom is an account manager for the club. He works with season ticket holders to ensure that they have a great experience over the course of a season, regardless of whether the Rangers win or lose. His sales goals include upgrading season ticket holders to more expensive seats, identifying referral opportunities for new season-ticket sales, and selling special-event packages, such as party packages to box-seat holders. While most account managers sell to businesses, some, like Bergstrom, sell to individual consumers.
Account managers also have to identify lead users (people or organizations likely to use new, cutting-edge products) and build relationships with them. (Recall that we discussed lead users in Chapter 6 "Creating Offerings".) Lead users are in a good position to help improve a company's offerings or develop new ones. Account managers work closely with these lead users and build relationships across both their companies so that the two organizations can innovate together.
KEY TAKEAWAY
Salespeople act as representatives for other people, including employees who work in other parts of their companies. Salespeople create value for their customers, manage relationships, and gather information for their firms. There are four types of salespeople: missionary salespeople, trade salespeople, prospectors, and account managers.
REVIEW QUESTIONS
Salespeople play three primary roles. What are they?
Salespeople create value in what two ways?
How does each type of salesperson create value?