An advantage of the cadaver approach is that the brains can be fully studied, but an obvious disadvantage is that the brains are no longer active. In other cases, however, we can study living brains. The brains of living human beings may be damaged, for instance, as a result of strokes, falls, automobile accidents, gunshots, or tumors. These damages are called lesions. In rare occasions, brain lesions may be created intentionally through surgery, such as that designed to remove brain tumors or (as in split-brain patients) to reduce the effects of epilepsy. Psychologists also sometimes intentionally create lesions in animals to study the effects on their behavior. In so doing, they hope to be able to draw inferences about the likely functions of human brains from the effects of the lesions in animals.
Lesions allow the scientist to observe any loss of brain function that may occur. For instance, when an individual suffers a stroke, a blood clot deprives part of the brain of oxygen, killing the neurons in the area and rendering that area unable to process information. In some cases, the result of the stroke is a specific lack of ability. For instance, if the stroke influences the occipital lobe, then vision may suffer, and if the stroke influences the areas associated with language or speech, these functions will suffer. In fact, our earliest understanding of the specific areas involved in speech and language were gained by studying patients who had experienced strokes.
It is now known that a good part of our moral reasoning abilities are located in the frontal lobe, and at least some of this understanding comes from lesion studies. For instance, consider the well-known case of Phineas Gage, a 25-year-old railroad worker who, as a result of an explosion, had an iron rod driven into his cheek and out through the top of his skull, causing major damage to his frontal lobe (Macmillan, 2000). 1 Although remarkably Gage was able to return to work after the wounds healed, he no longer seemed to be the same person to those who knew him. The amiable, soft-spoken Gage had become irritable, rude, irresponsible, and dishonest. Although there are questions about the interpretation of this case study (Kotowicz, 2007), 2 it did provide early evidence that the frontal lobe is involved in emotion and morality (Damasio et al., 2005). 3
More recent and more controlled research has also used patients with lesions to investigate the source of moral reasoning. Michael Koenigs and his colleagues (Koenigs et al., 2007) 4 asked groups of normal persons, individuals with lesions in the frontal lobes, and individuals with lesions in other places in the brain to respond to scenarios that involved doing harm to a person, even though the harm ultimately saved the lives of other people (Miller, 2008). 5
In one of the scenarios the participants were asked if they would be willing to kill one person in order to prevent five other people from being killed. As you can see in Figure 3.11, they found that the individuals with lesions in the frontal lobe were significantly more likely to agree to do the harm than were individuals from the two other groups.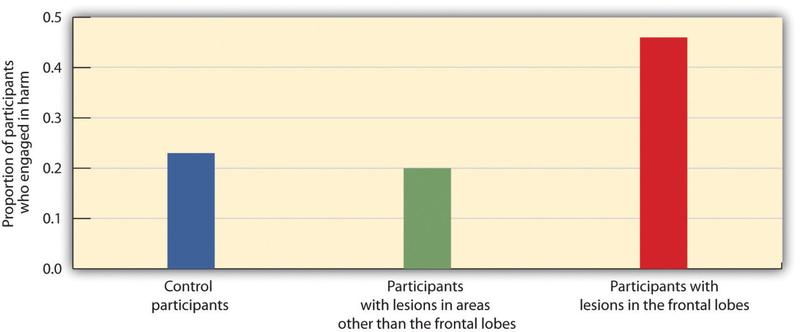 Figure 3.11
The Frontal Lobe and Moral Judgment 
Koenigs and his colleagues (2007) 6 found that the frontal lobe is important in moral judgment. Persons with lesions in the frontal lobe were more likely to be willing to harm one person in order to save the lives of five others than were control participants or those with lesions in other parts of the brain.