Sensory memory refers to the brief storage of sensory information. Sensory memory is a memory buffer that lasts only very briefly and then, unless it is attended to and passed on for more processing, is forgotten. The purpose of sensory memory is to give the brain some time to process the incoming sensations, and to allow us to see the world as an unbroken stream of events rather than as individual pieces.
Visual sensorymemoryis known as iconic memory. Iconic memory was first studied by the psychologist George Sperling (1960). 1 In his research, Sperling showed participants a display of letters in rows, similar to that shown in Figure 8.4. However, the display lasted only about 50 milliseconds (1/20 of a second). Then, Sperling gave his participants a recall test in which they were asked to name all the letters that they could remember. On average, the participants could remember only about one-quarter of the letters that they had seen.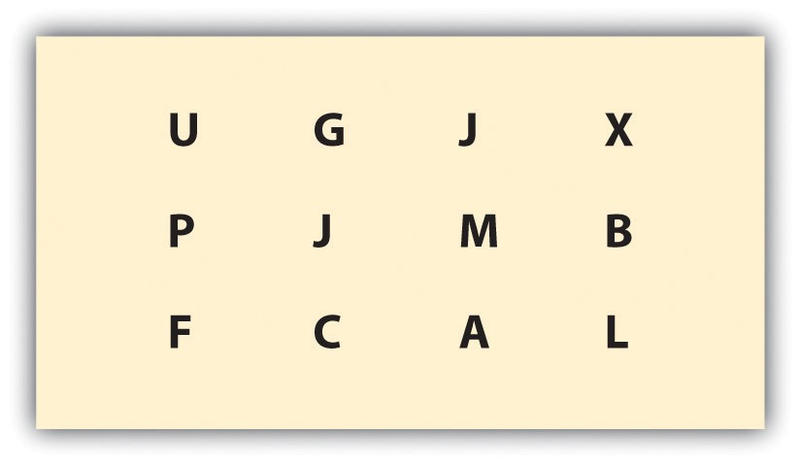 Figure 8.4
Measuring Iconic Memory 
Sperling (1960) showed his participants displays such as this one for only 1/20th of a second. He found that when he cued the participants to report one of the three rows of letters, they could do it, even if the cue was given shortly after the display had been removed. The research demonstrated the existence of iconic memory.
Sperling reasoned that the participants had seen all the letters but could remember them only very briefly, making it impossible for them to report them all. To test this idea, in his next experiment he first showed the same letters, but then after the display had been removed, he signaled to the participants to report the letters from either the first, second, or third row. In this condition, the participants now reported almost all the letters in that row. This finding confirmed Sperling's hunch: Participants had access to all of the letters in their iconic memories, and if the task was short enough, they were able to report on the part of the display he asked them to. The "short enough" is the length of iconic memory, which turns out to be about 250 milliseconds (¼ of a second).
Auditory sensory memory is known as echoic memory. In contrast to iconic memories, which decay very rapidly, echoic memories can last as long as 4 seconds (Cowan, Lichty, & Grove, 1990). 2 This is convenient as it allows you—among other things—to remember the words that you said at the beginning of a long sentence when you get to the end of it, and to take notes on your psychology professor's most recent statement even after he or she has finished saying it.
In some people iconic memory seems to last longer, a phenomenon known as eidetic imagery(or "photographic memory") in which people can report details of an image over long periods of time. These people, who often suffer from psychological disorders such as autism, claim that they can "see" an image long after it has been presented, and can often report accurately on that image. There is also some evidence for eidetic memories in hearing; some people report that their echoic memories persist for unusually long periods of time. The composer Wolfgang Amadeus Mozart may have possessed eidetic memory for music, because even when he was very young and had not yet had a great deal of musical training, he could listen to long compositions and then play them back almost perfectly (Solomon, 1995). 3