Overseeing all federal courts is the US Supreme Court, in Washington, DC. It consists of nine justices—the chief justice and eight associate justices. (This number is not constitutionally required; Congress can establish any number. It has been set at nine since after the Civil War.) The Supreme Court has selective control over most of its docket. By law, the cases it hears represent only a tiny fraction of the cases that are submitted. In 2008, the Supreme Court had numerous petitions (over 7,000, not including thousands of petitions from prisoners) but heard arguments in only 87 cases. The Supreme Court does not sit in panels. All the justices hear and consider each case together, unless a justice has a conflict of interest and must withdraw from hearing the case.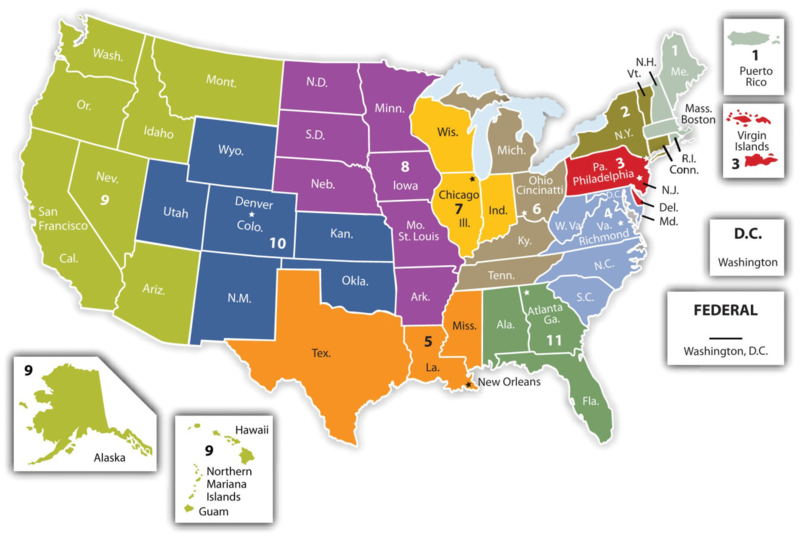 Figure 3.1
The Federal Judicial Circuits 
Federal judges—including Supreme Court justices—are nominated by the president and must be confirmed by the Senate. Unlike state judges, who are usually elected and preside for a fixed term of years, federal judges sit for life unless they voluntarily retire or are impeached.
KEY TAKEAWAY
Trial courts and appellate courts have different functions. State trial courts sometimes hear cases with federal law issues, and federal courts sometimes hear cases with state law issues. Within both state and federal court systems, it is useful to know the different kinds of courts and what cases they can decide.
EXERCISES
Why all of this complexity? Why don't state courts hear only claims based on state law, and federal courts only federal-law-based claims?
Why would a plaintiff in Iowa with a case against a New Jersey defendant prefer to have the case heard in Iowa?
James, a New Jersey resident, is sued by Jonah, an Iowa resident. After a trial in which James appears and vigorously defends himself, the Iowa state court awards Jonah $136,750 dollars in damages for his tort claim. In trying to collect from James in New Jersey, Jonah must have the New Jersey court certify the Iowa judgment. Why, ordinarily, must the New Jersey court do so?