"New Venture Instructional Manual to Operational Excellence"
Start by process mapping all of the organization's processes by creating a process log. Utilize a word processing software program which has auto shapes that features a "flowchart." This will give you the software necessary for developing your process map. It does take a long time to process map the functions within an organization, even a newly formulated venture. It's time well spent.
Process mapping guide
There are many books and publications about process mapping and there are multiple ways to process map. We are going to focus here on showing you how to map the processes that make up new product development and marketing. We suggest the following:
Assemble the people who are involved in the development and marketing of a new product at your organization.
Brainstorm a list of the day-to-day steps that are taken to develop and market a new product.
Review the list with your board, strategic alliance partners, mentors, vendors, and family members for items that may have been missed.
Take the final list and divide it into two categories: repetitive processes and rare processes. Repetitive processes are steps that are taken repeatedly when developing and marketing a new product such as manufacturing the product. Rare processes occur infrequently.
Analyze the rare processes list to see if any of the items mentioned can be combined with or woven into the repetitive processes. Rare processes can drain resources and are often not budgeted for. If you can combine a rare process with a repetitive process, you have taken a valuable step toward improving the operational excellence of your business.
Make a flowchart of the processes within your organization from the list that was prepared and fine-tuned. This is where you take what might be explained in several paragraphs of text and drill it down to several flowchart icons. See Figure 1.9.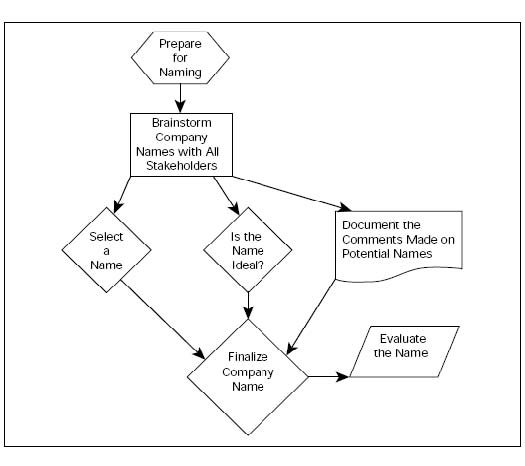 Figure 1.9
Process Mapping Diagram
The Process Mapping Diagram was developed by Molly Lavik, October 6, 2002 
There is a growing trend for corporations to organize their management systems by processes instead of products. Large and mid-size corporations are making this shift to achieve cost savings.
Once you have completed your process log you must repeat the analysis phase. Gather your resident experts as well as some new mentors and outside board members to analyze the firm's processes. Look for current processes that could be streamlined.
Because areas to streamline are difficult to see, keep re-examining what has been documented in the process log. Upon exhaustive examination of every possible streamlined scenario, the solution to achieving operational excellence will come into focus. Stay open and flexible to these new ideas.
Log the new process innovations. Embrace the new processes and apply them throughout the organization with the committed support of top management. This can be the most challenging step and requires a change management campaign.
A change management campaign is the internal communication campaign that is targeted at a venture's employees regarding a shift in the way a business is managed. This means you have to take a hands-on role in communicating the changes throughout the organization, making sure that everyone understands the new game plan, and why it is necessary. Inevitably, some won't be willing to go along with the new program and you may need to help them find employment elsewhere. One negative person can delay the whole group's transformation." 1 
After your new product bud has bloomed through the implementation of a process mapping guide you are ready to launch your new product offering into the market place. You should consider planning a New Product Launch Event.
Read on: Adding Products or Services is discussed further in Adding products and services.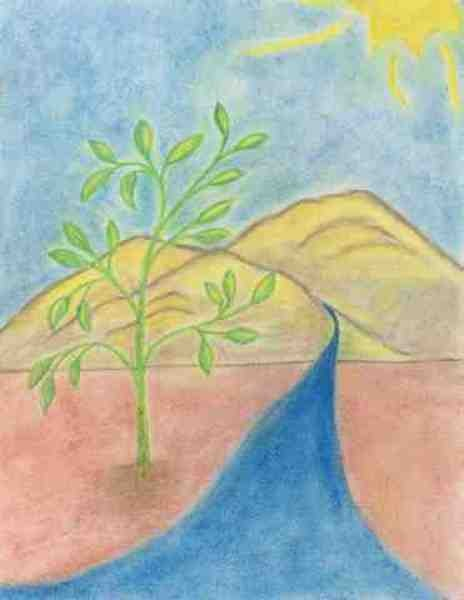 Image created by: Taissia Belozerova, Graphic Designer, Artist, MBA Candidate at Pepperdine University Class of 2009