The International Accounting Standards Committee (IASC) Foundation, formed in March 2001, is the parent body of the International Accounting Standards Board (IASB). The IASB, formed on April 1, 2001, has assumed accounting standard-setting responsibilities from its predecessor body, the IASC (International Accounting Standard Boards: About Us, n.d.).
The objectives of the IASB are:
To develop, in the public interest, a single set of high quality, understandable and enforceable global accounting standards
To help participants in the world's capital markets and other users make economic decisions by having access to high quality, transparent, and comparable information
To promote the use and vigorous application of those standards
To bring about convergence of national accounting standards and international accounting standards to high quality solutions (Hussey, 2005).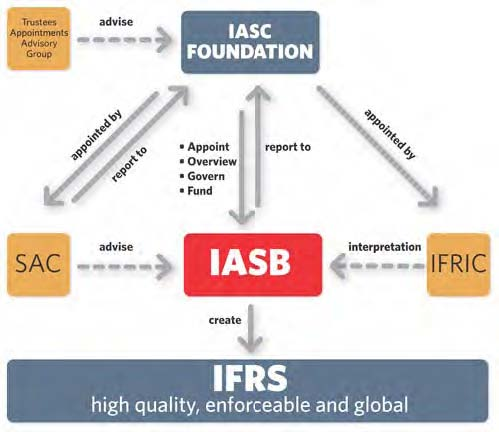 Figure 14.8
The way the IASB functions (www.iasb.org)  
Even though the IASB standards are not enforced internationally at this time, the standards are quickly being processed. Therefore, a company looking to go international should abide by IASB standards.