Globalization is difficult to define because it has many dimensions—economic, political, cultural and environmental. The focus here is on the economic dimension of globalization. Economic globalization refers to the "quickly rising share of economic activity in the world [that] seems to be taking place between people in different countries" (World Bank Briefing Paper, 2001). More specifically, economic globalization is the result of the increasing integration of economies around the world, particularly through trade and financial flows and the movement of people and knowledge across international borders (IMF Issue Brief, 2000).
Case: United States Domestic Automaker, Ford
Nowhere are the effects of globalization seen more drastically than in the automobile industry, especially for the United States "Big 3" automakers: General Motors, Chrysler, and Ford.
Ford's history dates back to the Model T created by Henry Ford, with the goal of building a car for every family. Today, Ford is in dire competition with not only their domestic competitors, but also now foreign car manufacturers such as Toyota, Volkswagen and Hyundai.
At the current pace, the automotive market is approaching a 50/50 split between United States and overseas-based control of the US market. As a result, Ford is challenged to constantly reevaluate and revamp its market strategy. This is evident, as Ford decided that it was more cost-effective to buy existing networks than to start from scratch, by bringing Jaguar, Volvo, Mazda, Aston Martin and Land Rover under its control. However, Ford has recently decided to sell its stake in both Jaguar and Land Rover to the Indian automaker, Tata, and may divest other divisions as well.
Today, Ford faces a number of important questions. As the globalization of the auto industry continues, how should Ford market its vehicles? What target markets should Ford appeal to? How can it continue to improve production and quality and adhere to the needs of even more demanding customers? And, how should Ford position itself, as a company, in the face of formidable competition?
While the future of Ford is uncertain, one thing is clear, globalization will continue to affect the way domestic and foreign companies do business.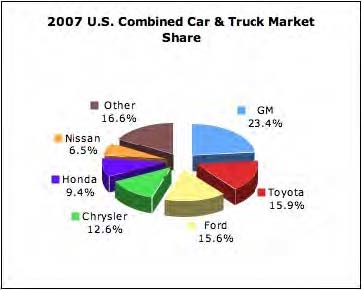 Figure 14.2
Global Market Share, 2007-2008 (Edmunds.com, 2007)
As this figure suggests, the "Big Three" must adapt to changes in the market and globalization factors to remain key players in the automotive market. At one point in 2007, for the first time in history, US automaker's share of their home market fell below 50 percent.