Ever since the earliest days of business, when fairly primitive manual approaches were the only available information systems, the cheapest and most efficient way to do data processing on large volumes of similar business event data was to aggregate (i.e., batch) several events together and then periodically complete the processing on all of the event data at once. The periodic mode is the processing mode in which there is a delay between the various data processing steps. Although technically not the same, the periodic mode is heavily dependent on the use of batch processing, and the two terms are often used interchangeably. Batch processing is the aggregation of several business events over some period of time with the subsequent processing of these data as a group by the information system.
Review Question
Explain the relationship between the periodic mode and batch processing.
Almost all manual systems use the periodic mode. In a computerized environment, the easiest approach to automating some business processes has been to simply mirror analogous manual batch processing systems.
Batch processing systems typically require four basic subprocesses to be completed before event data is converted into informational reports that can be used by decision makers. Follow along with Figure 4.1 as we explain how each of these four subprocesses are typically completed.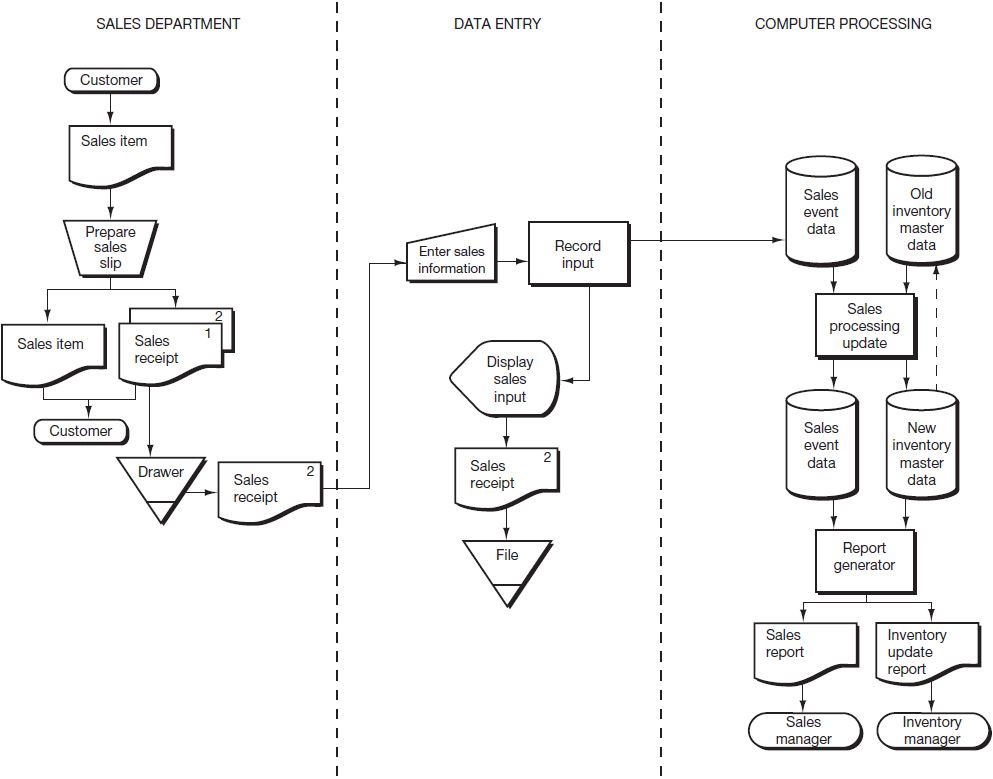 Figure 4.1
Automated Equivalent to a Manual System 
Review Question
List and describe the four basic subprocesses completed in processing business event data using batch processing.
Note that between each step there is a time delay before the next step occurs. We might think of this form of automated system as a pure periodic system in that the entire process uses a periodic mode for processing. For instance, in our used books and CDs store, the sales documents are collected for the day before being passed on for keying. After keying, the sales data are held until the data can be transferred to the location and person where the data can be used to update the master data. After the data are updated each day, the reports may still not be generated until later—perhaps on a weekly or monthly basis.
A disadvantage of periodic mode systems is that the only time the master data are up to date is right after the processing has been completed. As soon as the next business event occurs, the master data are no longer up to date. As a result, there is little reason to provide a query capability (as discussed in Chapter 3) for data that are used in a periodic mode system. Usually, systems users will simply get a copy of the reports generated at the end of a processing run and use this information to make their decisions until the next processing run and a new set of reports is available. Only in rare situations will a query capability be provided, and then only to eliminate the needless printing of reports for occasional users of the information generated by the system.