| | |
| --- | --- |
| | Fundamental to providing balanced scorecard functionality is the development of business intelligence functionality within enterprise systems. Business intelligence, as presented in Business Intelligence and Knowledge Management Systems, is the integration of statistical and analytical tools with decision support technologies to facilitate complex analyses of data warehouses by managers and decision makers. In short, the ideal business intelligence solution within an enterprise system should provide the right tools, the right interface, and access to the right kind of data for effective business decision making 1. Some examples of successful applications of business intelligence are found in **Technology Application 14.2. |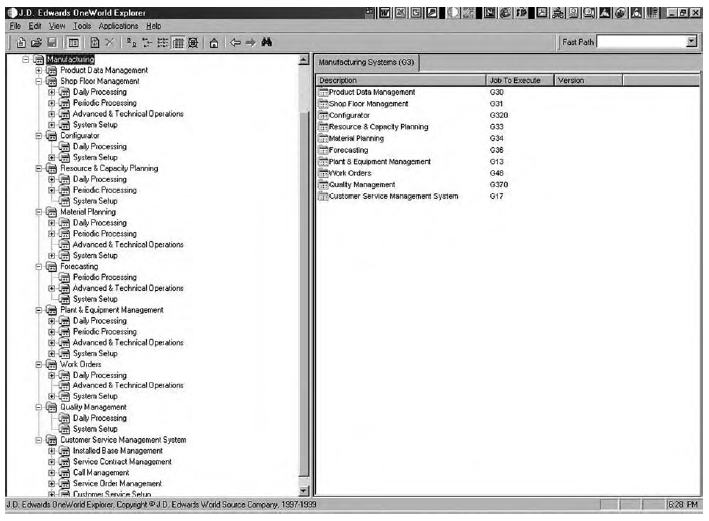 Figure 15.10
JD Edwards Manufacturing Screen  
Reprinted by permission of JD Edwards World Source Company.
In addition to the prespecified reports outlined by Figure 15.8; Figure 15.9; Figure 15.10, JD Edwards supports a generic business intelligence tool to permit the user easy access to ad hoc reporting and analysis. Figure 15.11 shows how this functionality is divided into several sections. The report writer permits the user to produce ad hoc reports. Predefined user-specified reports are available through the Executive Information System section, and the OnLine Analytical Applications area supports more complex analysis. Finally, the user can analyze trend data through the historical database comprising the Data Warehouse.
TECHNOLOGY APPLICATION 14.2
Business Intelligence
Case 1
Faced with declining game attendance and lower television ratings, the National Basketball Association (NBA) has reacted swiftly in applying business intelligence tools to facilitate customer relationship management. The NBA currently assembles information about fans who purchase tickets from a number of sources around the world, including Ticketmaster, the Home Shopping Network, All- Star nominating ballots, New York's NBA Store, databases of individual teams, and the NBA.com Web site. Each NBA team will soon be able to access the combined data in a data warehouse and use business intelligence applications to analyze the data. Teams will be able to tell if a customer prefers to purchase tickets when a particular opposing team is in town or at specific times of the year. The data analysis will also be used to market sports merchandise directly to select customers through a customer relationship management capability.
Case 2
In 1998, the Malaysian currency crisis resulted in the collapse of the Malaysian stock market and internal asset values. U.S. banks and financial institutions with offices in the area needed to assess quickly the risk they faced because of the sudden drop in their investment value, and report it immediately to the Federal Reserve. The Chase Manhattan Global Investment Bank was able to produce daily reports as the crisis unfolded because it had recently implemented a business intelligence system. The system provided highly detailed reports to its internal users as well as to the Federal Reserve. The software allows the company to adapt quickly when facing imminent risk.
Sources: Marc L. Songini, "NBA Shoots for Data Analysis," Computerworld, May 28, 2001; Talila Baron, "Chase Stays Ahead of Its Rivals," InformationWeek, October 11, 1999, 104–108.