In animal cells, the lysosomes are the cell's "garbage disposal." Digestive enzymes within the lysosomes aid the breakdown of proteins, polysaccharides, lipids, nucleic acids, and even worn-out organelles. In single-celled eukaryotes, lysosomes are important for digestion of the food they ingest and the recycling of organelles. These enzymes are active at a much lower pH (more acidic) than those located in the cytoplasm. Many reactions that take place in the cytoplasm could not occur at a low pH, thus the advantage of compartmentalizing the eukaryotic cell into organelles is apparent.
Lysosomes also use their hydrolytic enzymes to destroy disease-causing organisms that might enter the cell. A good example of this occurs in a group of white blood cells called macrophages, which are part of your body's immune system. In a process known as phagocytosis, a section of the plasma membrane of the macrophage invaginates (folds in) and engulfs a pathogen. The invaginated section, with the pathogen inside, then pinches itself off from the plasma membrane and becomes a vesicle. The vesicle fuses with a lysosome. The lysosome's hydrolytic enzymes then destroy the pathogen (Figure 3.12 ).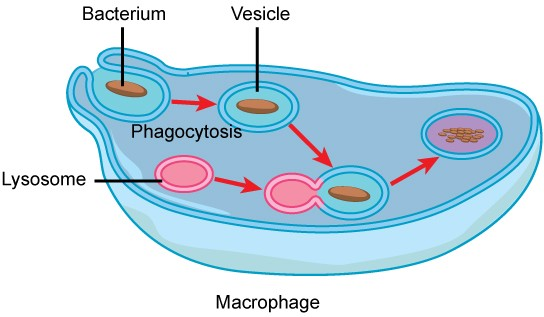 A macrophage has phagocytized a potentially pathogenic bacterium into a vesicle, which then fuses with a lysosome within the cell so that the pathogen can be destroyed. Other organelles are present in the cell, but for simplicity, are not shown.