Mollusca is the predominant phylum in marine environments, where it is estimated that 23 percent of all known marine species belong to this phylum. It is the second most diverse phylum of animals with over 75,000 described species. The name "mollusca" signifies a soft body, as the earliest descriptions of mollusks came from observations of unshelled, soft-bodied cuttlefish (squid relatives). Although mollusk body forms vary, they share key characteristics, such as a ventral, muscular foot that is typically used for locomotion; the visceral mass, which contains most of the internal organs of the animal; and a dorsal mantle, which is a flap of tissue over the visceral mass that creates a space called the mantle cavity. The mantle may or may not secrete a shell of calcium carbonate. In addition, many mollusks have a scraping structure at the mouth, called a radula (Figure 15.24).
The muscular foot varies in shape and function, depending on the type of mollusk (described below in the section on mollusk diversity). It is a retractable as well as extendable organ, used for locomotion and anchorage. Mollusks are eucoelomates, but the coelomic cavity is restricted to a cavity around the heart in adult animals. The mantle cavity, formed inside the mantle, develops independently of the coelomic cavity. It is a multi-purpose space, housing the gills, the anus, organs for sensing food particles in the water, and an outlet for gametes. Most mollusks have an open circulatory system with a heart that circulates the hemolymph in open spaces around the organs. The octopuses and squid are an exception to this and have a closed circulatory system with two hearts that move blood through the gills and a third, systemic heart that pumps blood through the rest of the body.
Art Connection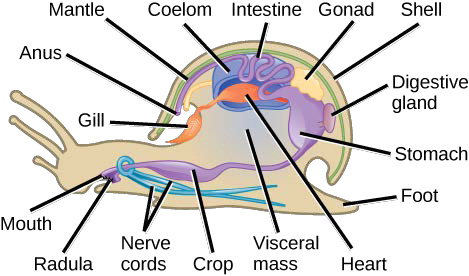 Figure 15.24
There are many species and variations of mollusks; the gastropod mollusk anatomy is shown here, which shares many characteristics common with other groups. 
Which of the following statements about the anatomy of a mollusk is false?
Mollusks have a radula for scraping food.
Mollusks have ventral nerve cords.
The tissue beneath the shell is called the mantle.
The mantle cavity contains hemolymph.