The phylum Nematoda, or roundworms, includes more than 28,000 species with an estimated 16,000 parasitic species. The name Nematoda is derived from the Greek word "nemos," which means "thread." Nematodes are present in all habitats and are extremely common, although they are usually not visible (Figure 15.17).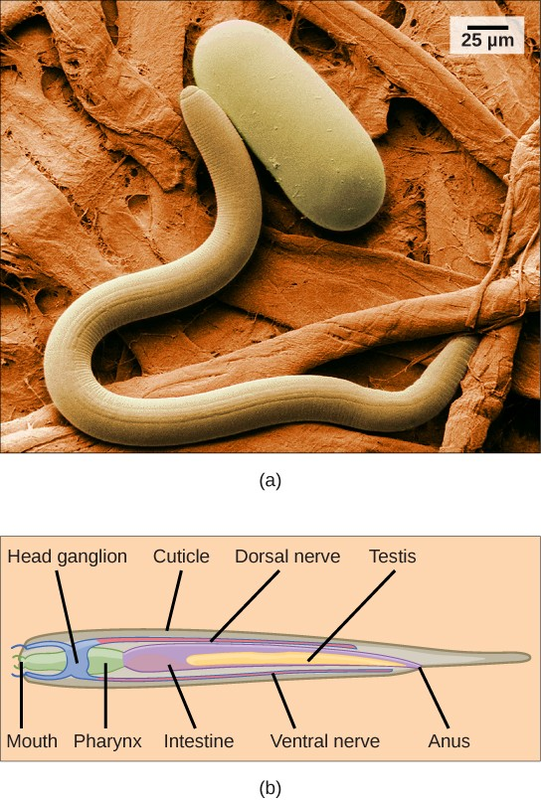 Figure 15.17
(a) An scanning electron micrograph of the nematode Heterodera glycines and (b) a schematic representation of the anatomy of a nematode are shown. 
Most nematodes look similar to each other: slender tubes, tapered at each end (Figure 15.17). Nematodes are pseudocoelomates and have a complete digestive system with a distinct mouth and anus.
The nematode body is encased in a cuticle, a flexible but tough exoskeleton, or external skeleton, which offers protection and support. The cuticle contains a carbohydrate-protein polymer called chitin. The cuticle also lines the pharynx and rectum. Although the exoskeleton provides protection, it restricts growth, and therefore must be continually shed and replaced as the animal increases in size.
A nematode's mouth opens at the anterior end with three or six lips and, in some species, teeth in the form of cuticular extensions. There may also be a sharp stylet that can protrude from the mouth to stab prey or pierce plant or animal cells. The mouth leads to a muscular pharynx and intestine, leading to the rectum and anal opening at the posterior end.